climate cabinet
Climate test cabinet
We supply climate chambers, constant climate chambers and climate cabinets for a wide range of applications. Universally applicable for pharmaceutical industry, research, development, production, material aging, animal husbandry in the laboratory, qality assurance, environmetal simulation and much more.
With temperature, light  and optinal humidity adjustable up to 96%, which is realized with ultrasonic humidification, dehumidifier, even temperature distribution by adjustable ventilation.
Ligthing according to your requirments such as surface light only above, surface light on several levels, or side lighting. daylight or according to your spectrum.
Programmable with the controller touchscreen 7″ day/night cycles odr weekly cycles, graphic display, USB connection, Ethernet, alarm e-mail to mobile phone, programmable also vis PC or tablet.
Many options like cable entry, indoor socket, activated carbon filter, HEPA filter, abjustable fan, supply and exhaust air, stainless steel doors, glass doors, potential-free contact, possibility for Co2 connection.
The units are also available in customer-specific versions for temperature, size, dimensions or special application on your request. 
MK line – capacious - for highest demands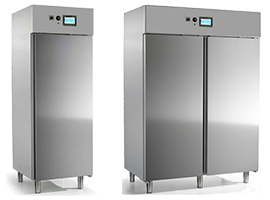 Temperature range standard
+2°C to +45°C ± 0.5
Humidity max. 96%
inside volume
600, 800, 1200 and 1500 l
For all models of the MK line:
This climate cabinet line is inside and outside made of high quality stainless steel.
The temperature and humdity regulation with the new touchscreen. The insulation material and the exact manufacturing ensures the highest exactness of ±0,5°C. With digital humidity regulation of ultrasound humidification.
Operation made easy by standard safety circuit, adjustable safety restriction of temperature with fault indicator.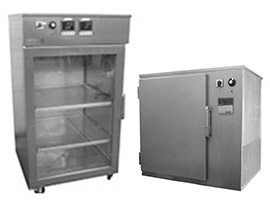 Temperature range Standard
without cooling
up to +45°C or to +75°C ± 0.5
Humidity max. 90% by 50°C
with cooling
+2°C up to +45°C ± 0.5
Humidity max. 96% from 20°C
The models 200 up to 500 are deliverable in 3 typs: with stainless steel doors, with glass doors or with both – stainless steel and inside glass door. Also Benchtop models available.
NEW! Also available with Touchscreen controller and LED lighting.